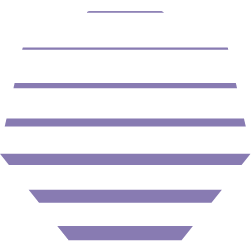 The Inner Vitality (+55) Stack
A proprietary combination of 7 high impact vitamins and super foods formulated to replenish the body with essential nutrients and boost natural capacities to help you feel your best everyday. Each box contains 28x chewable vegan gummies, in home compostable, plastic-free packaging.
Powerful Anti-Inflammatories
Energy & Mood Boosting
Supports Recovery
Supports Muscle & Bone Health
Orders are made fresh, please allow up to 7 days for your order to arrive.
Feel Your Best, Always: Sugar-Free, Vegan Gummy Vitamins
'I really notice when I haven't had my little power pack. It boosts my mood and my energy, and they don't taste too bad either. I will definitely continue using them.' - Angela Raval, Nourished Customer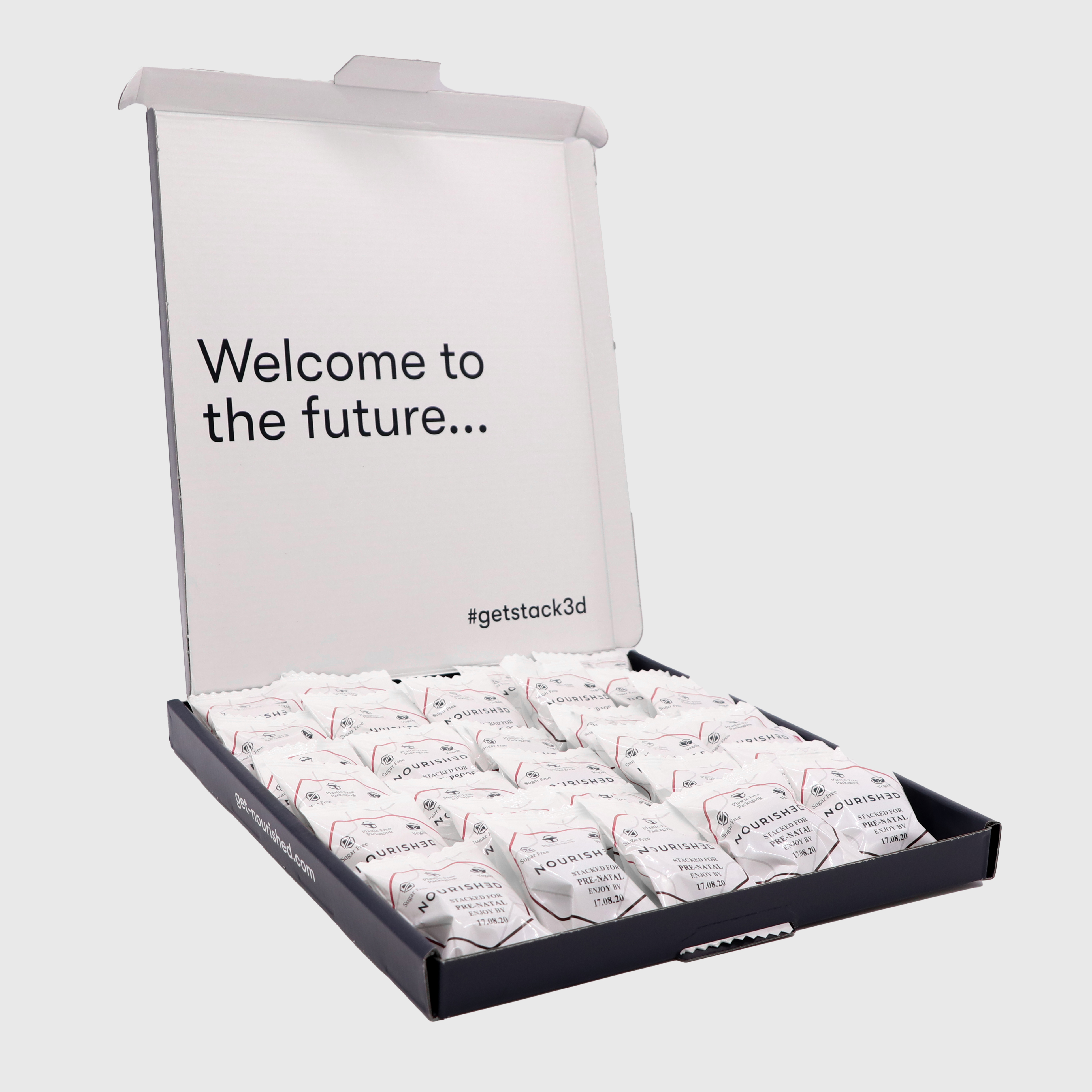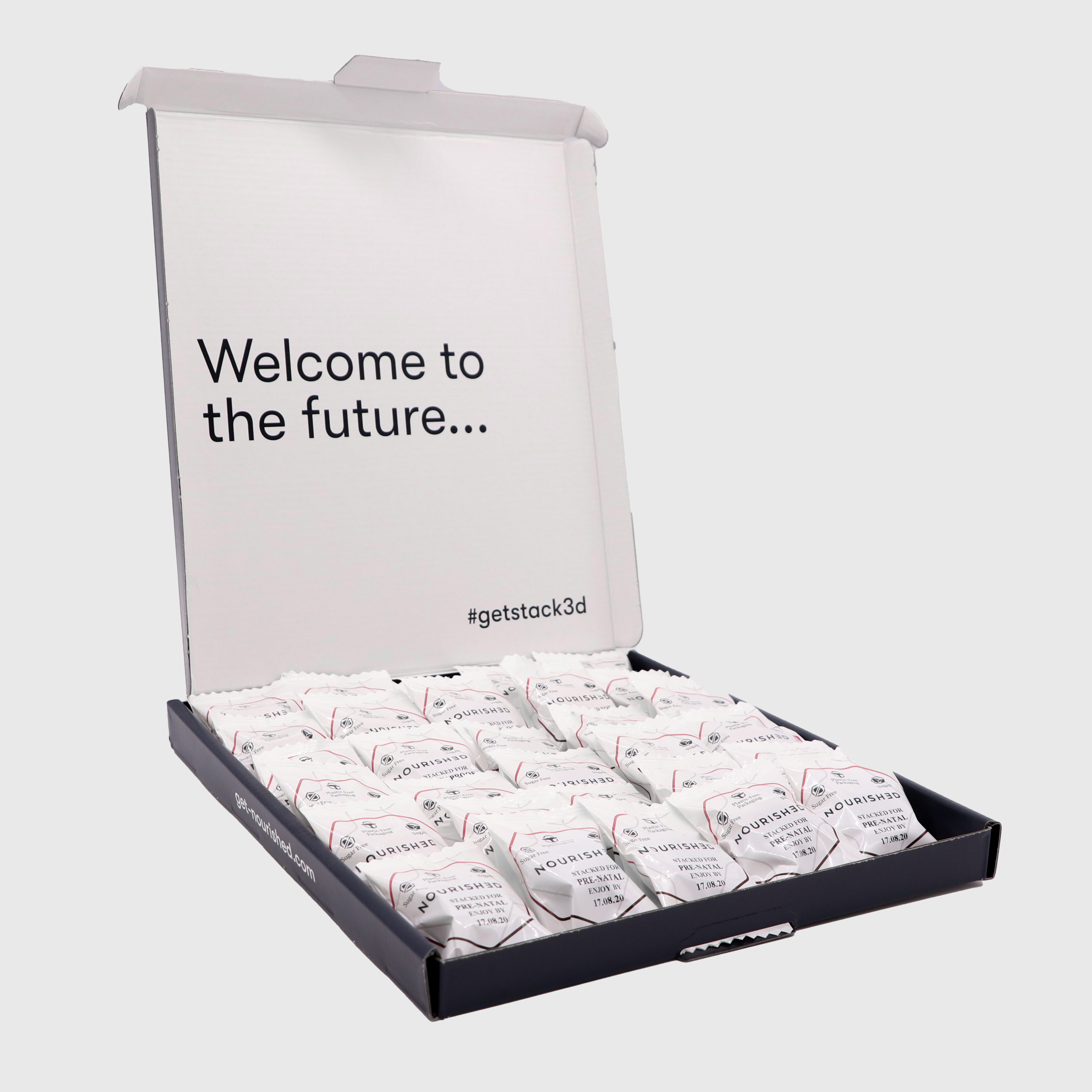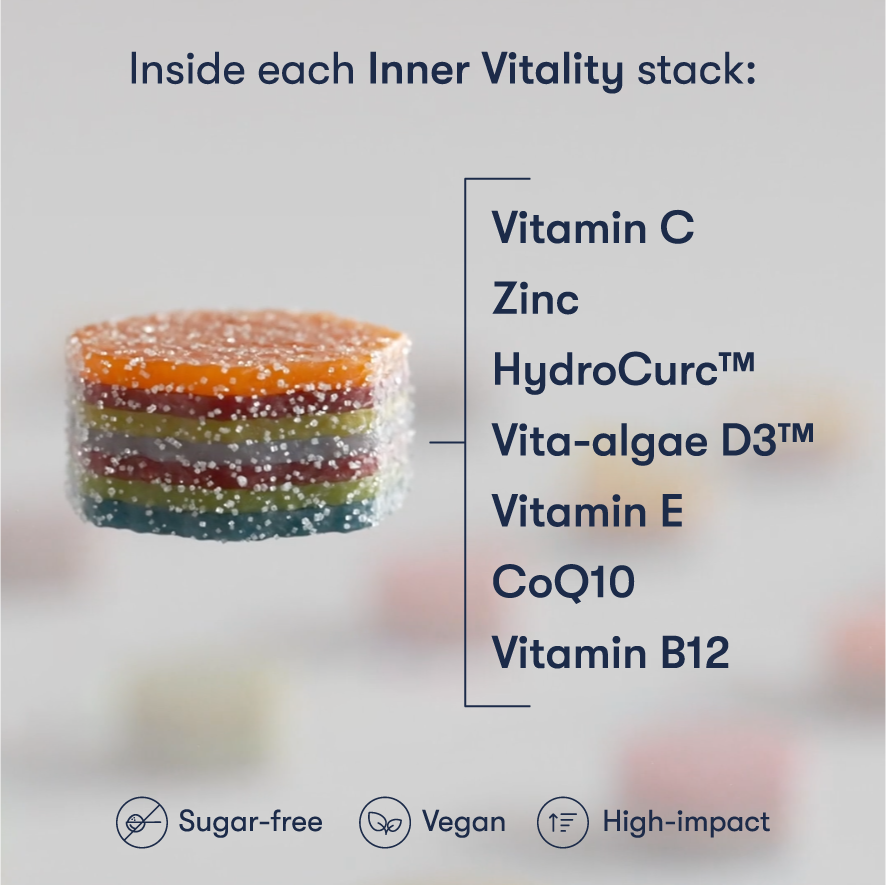 In each stack.
An essential for immunity support
Aids maintenance of bone and muscle health
Supports mood regulation & overall wellbeing
Enhances memory & cognitive function
300IU per serving
Helps maintain healthy bones, teeth and cartilage
Helps with iron absorption
An essential for immunity support
Supports eye and cardiovascular health
96mg serving
HydroCurc™ & Black Pepper Extract
Highly effective anti-inflammatory properties
Enhances memory & cognitive function
Helps improves joint and muscle health
96mg per serving
Supports in lowering blood pressure
Studies show improvements in heart health and blood sugar regulation
Helps to reduce frequency of migraines
30mg per serving
Necessary for a healthy immune system
Helps the body create new cells and enzymes
Aids the recovery of healing muscles and wounds
10mg per serving
Powerful antioxidant that help to protect your cells
Helps defend the skin against ageing, inflammation and sun damage
Aids with boosting natural hair growth
24mg per serving
Vitamin B12 (Cyanocobalamin)
Helps increase energy levels
Regulates moods and reduces stress
Improves quality of sleep pattern
3.75mcg per serving
High Efficacy & Absorption
Nourished vitamin stacks are made fresh to order and we guarantee at least 99.5% efficacy on all of our products so you can trust that you are getting the maximum benefit and impact of the nutrients inside. In addition, all of our gummy stacks are made with a patented vegan gel delivery system, allowing for a higher-bioavailability of the actives inside and allowing them to be delivered into the bloodstream, up to 5x faster than pills or capsules.

Learn More
Everything I need
"These are perfect! They have everything I need in them, taste great and are so much easier to have once a day than the big multivitamin pill I was taking previously."
*****
Laara, Nourished Customer

Feefo Reviews
Very happy
"Well organised. Nutrients are explained well and convenient to receive by post. Ethical and good to the environment."
*****
Yvette, Nourished Customer

Feefo Reviews