The Prenatal Stack
A nurturing blend of 7 natural high impact nutrients which have been scientifically proven to support a heathy pregnancy. Contains 28 x edible gummy vitamins designed to be taken daily. 
Vital Nutrients for Mother & Baby
Energy & Mood Boosting
Supports Immune Health
Orders are made fresh, please allow up to 7 days for your order to arrive.
Nourishing Baby & Bump: Sugar-Free, Vegan Gummy Vitamins
'It's much more fun taking a Nourished multi stack gummie than a handful of dubious tasting tablets, knowing that it's doing me the world of good!' - Stephanie Dowson, Nourished Customer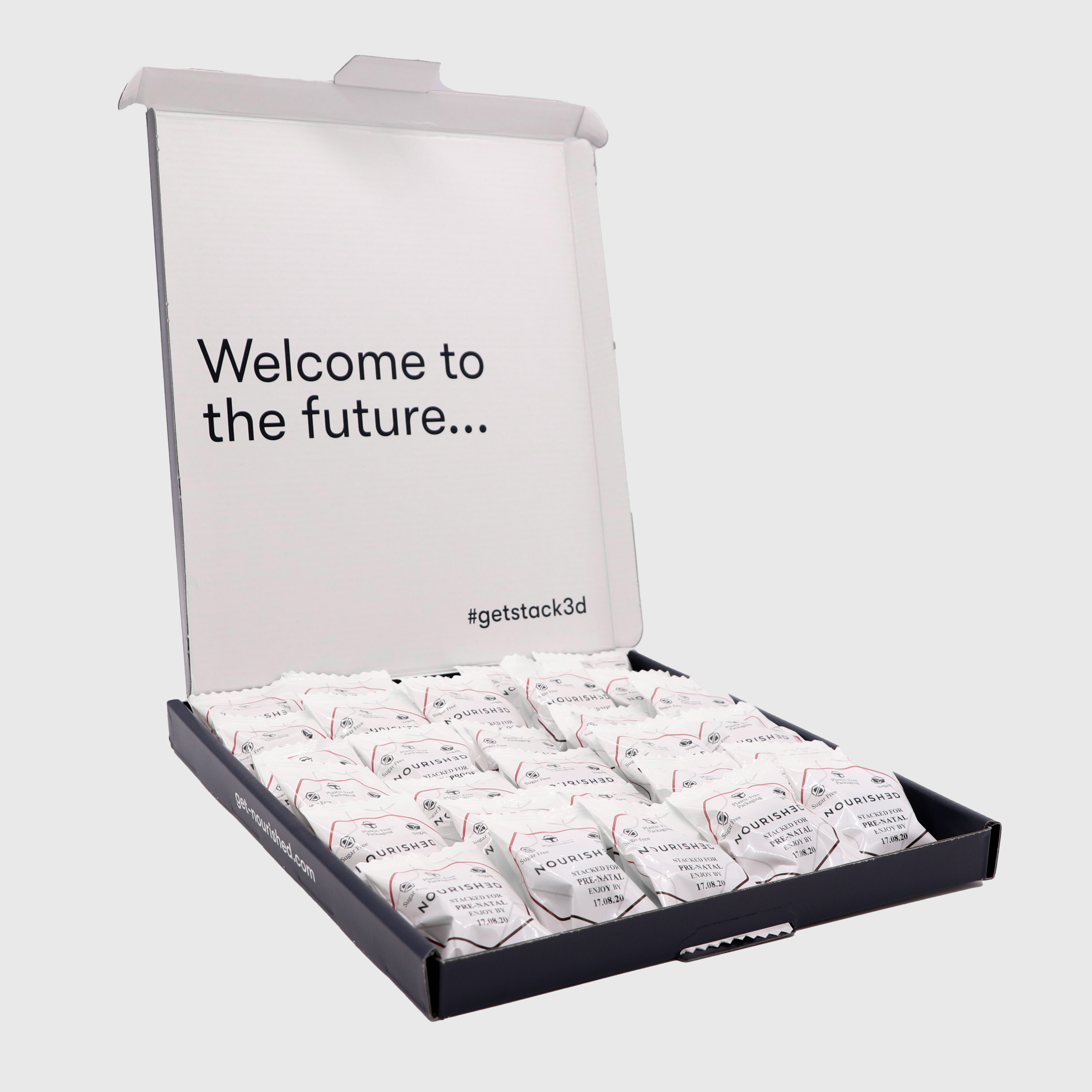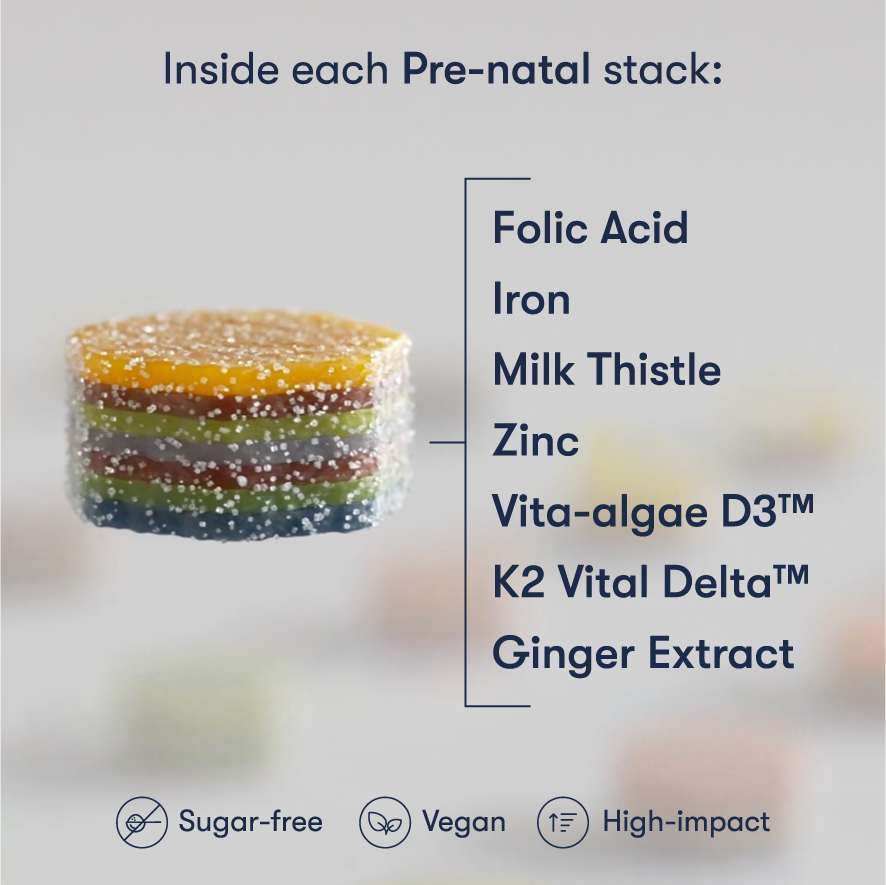 In each stack.
Helps the body produce healthy red blood cells
Helps maintain a healthy immune system and reduce fatigue
Essential dietary supplement for expectant and pregnant women
400mcg per serving
Deficiencies can cause fatigue & loss of cognitive function
Essential for nervous system health
Improves energy levels
Aids better athletic performance
12mg per serving
Powerful Detoxifier
Aids brain functionality
Antioxidant, antiviral and anti-inflammatory
Help support the recovery of liver damage
100mg per serving
Necessary for a healthy immune system
Decreases inflammation
Helps process carbohydrate, fat and protein in food
Increases the speed of healing muscles and wounds
10mg per serving
One of the best kept secrets in vitamins
Supporting health of bones and teeth
75mcg per serving
An essential for immunity support
Aids mood regulation
Helps to support cognitive function and nervous systems
Sourced from nutrient rich algae
300IU per serving
Commonly used to reduce nausea, migraines and inflammation
Helps reduce muscle pain and soreness
May reduce menstrual pain
Powerful anti-inflammatory and antioxidant effects
100mg per serving
High Efficacy & Absorption
Nourished vitamin stacks are made fresh to order and we guarantee at least 99.5% efficacy on all of our products so you can trust that you are getting the maximum benefit and impact of the nutrients inside. In addition, all of our gummy stacks are made with a patented vegan gel delivery system, allowing for a higher-bioavailability of the actives inside and allowing them to be delivered into the bloodstream, up to 5x faster than pills or capsules.

Learn More
Can't Fault!
"Fast service, great eco-friendly packaging, vitamins that taste good and are easy to eat - can't fault them!"
*****
Jessica, Nourished Customer
Delicious!
"Love the service and the taste of the product. I think it genuinely did make a difference to my mood and energy Levels."
*****
Laura, Nourished Customer